iQOO Z6 Pro Skins…. New way to Protect Your Device
Will you leave your iQOO Z6 Pro 5G UNPROTECTED after spending 28,999? Obviously not, when you buy skins for your iQOO Z6 Pro 5G, you are purchasing a "Protection Plan" for your device, as our skins offer environmental protection, protect your device from scratches, and provide a better grip, all while adding extra style points on top.
Features of iQOO Z6 Pro 5G skins
Filled with #Featrures, just like your iQOO
High-quality materials

Accurate cuts

Slim and light

Keep scratches at bay.

No smudges

Does not heat your device

Textured 3D patterns

No residue after removal

Increases resale value
Our wraps create a 0.23mm thin but durable covering between your iQOO and anything that attempts to scratch it. Dust, keys, or your girlfriend's nails must all pass through our coverings before touching your gadget. Our wraps protect your gadget from scratches while adding no bulk to it.
Precision is our middle name
No, its not we don't have a middle name, but we do offer most intense precision out there. As our engineers (with degree of Course) measure every button, holes, and curves with the precision to the MM that is millimetre as in 1/1000th of the meter.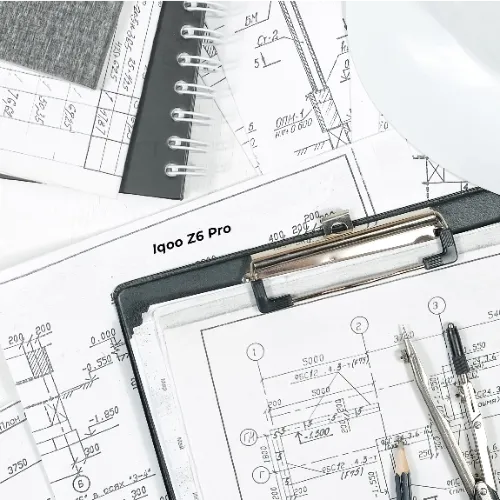 OUT OF THIS WORLD CUSTOMIZATION
At Skinsy, you have complete control over the skins that match your personal style. What you see above is an unrivalled interactive skin customization tool where you can choose from textures such as Ebony wood, Marble, Leather, Matte, and Camo, each of which is remarkable in its own way. So, choose the texture that best suits your style and maintain that gleaming Z6 Pro looking as wonderful as the day you bought it while still displaying some distinctive look.
Guarantied Highest Quality Standards
Skinsy uses the highest quality 3D textured wraps from 3M and Oracal, the best on the market. Let us translate for you.
Bubble Free Application

Finest Materials

Practically Weightless

Excellent Thermal Conductivity

Easy Removal
Installation and removal
Our skin installation method, which consists of only five simple steps and which we dub "ODAHF," will leave your device looking and feeling brand new.
With our thorough installation video and well-documented installation guide, it really is as simple as it seems. However, if you run into any issues, send us an email or get in touch with us on WhatsApp, and we'll be pleased to answer any queries you may have.
Removal Process is quite simple Since our wraps don't leave any adhesive or residue behind, Simply start peeling at a corner and work your way outwards until everything comes off.
Feedback from our beloved customers
QUESTIONS LIKE THESE ARE USUALLY ASKED BY our CUSTOMERS.
HOW LONG WILL THE SKIN LAST?
Our skin can last up to two years if properly applied and used.
WHAT IF THE WRAP HAS BUBBLES AFTER APPLYING?
Most applications don't get bubble if you carefully follow the instructions while applying, but if bubbles do occur, push them to the nearest opening. Leave those pesky bubbles to the those screen guards.
Yes, skins are completely water-resistant and will not be impacted even if your gadget is immersed or exposed to water.
Yes, when applied to your device, skins will retain their premium appearance without fading or discolouring, even when exposed to changing environmental conditions.
WHAT ARE FLAT BACK SKINS AND FULL BODY SKINS?
Flat Back skins cover only the back panel of your phone, not the sides, top, or bottom. Full body skins are extremely precisely trimmed to cover the back, sides, top, and bottom of the device with cutout of all ports and buttons.
ARE SKINS COMPATIBLE WITH WIRELESS CHARGERS?
Undoubtedly. Unlike other brands, our skins have no effect on your phone's wireless charging. It will charge normally when connected to a wireless charger.
All skins are made to order and precisely fit your device in terms of size, shape, and placement of ports and buttons.
DOES SKINS HEAT YOUR DEVICE?
Our wraps have excellent heat thermal conductivity, so your device won't overheat with skin.
WHY SKIN IS BETTER THEN CASE?
Wraps' 3D texture provides a firm grip and good protection from scratches. As an added bonus, you may use it as a protective film inside of a case.
HOW SKIN MAKE MY DEVICE SCRATCH RESISTANCE?
We recommend protecting your phone with a small layer of high-quality vinyl to prevent scratches from keys, dust, and other sharp items. Imagine the skin of your body to be the 3D textured screen protector of your smartphone.